News
Willamette Valley Campmeeting
Friendly Street is pleased to share that Pastor Jenny Elliot will be sharing the morning message on Wednesday, August 2nd at this year's Campmeeting. Here is more information if you are interested in attending.
Making an impact is the call of every Jesus follower. Handel Smith, Executive Director of US & Canada Strategy for Church of God Ministries, will drive home that theme as the main speaker for this year's Willamette Valley Campmeeting. Focusing on our theme, IMPACT: A God First Life, Impacting a Changing World, Rev. Smith will offer practical helps in living out this calling. He will speak in the evening services starting Sunday night, July 31st, and will conclude our week with the morning service on Thursday, August 4th. He will also speak at the morning youth sessions during the week. Victoria Smith, an accomplished musician and the wife of our evangelist, will be the worship leader for all the main services.
The Willamette Valley Campmeeting is a district-wide event that is designed to be a time of worship and inspiration for the whole family, with plenty of opportunities for fellowship and fun. While the schedule is purposely kept minimal to maximize fellowship and rest, there are activities for both children and youth. There will be organized recreation as well as open times to enjoy swimming and floating down the creek that surrounds the property.
Held once again on the historic grounds of the Oregon Christian Convention Center in Turner, Oregon, onsite dining is available throughout the week for registered participants. A variety of overnight lodging options are also available, including cabins, dormitory rooms, RV and tent spaces. Daily commuters are also welcome. Online registration is available through our District Website—www.orwacog.org or by using the following link: https://form.jotform.com/220106302799048
To download the MAIL-IN REGISTRATION FORM, CLICK HERE.
One of the founding principles of this annual week is to be low cost and donation supported. Registration fees only cover a portion of the week, but through the generosity of many in our district and a legacy gift from the Holladay Park congregation, all are able to attend. Both overnight and day use attendees are encouraged to register. For more information concerning registration, see Calendar (click on Campmeeting.)
If you have never attended campmeeting, or if it's been years since you have been, come out this year to the Willamette Valley Campmeeting and be refreshed and . . . bring someone with you!
Steve Kufeldt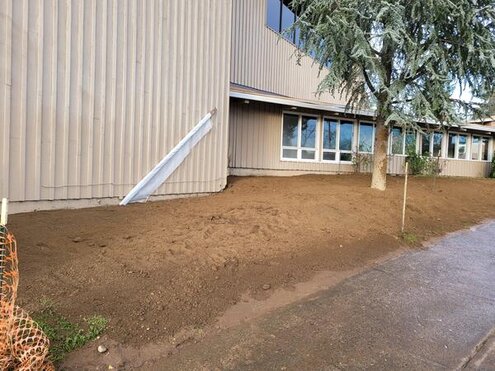 There was an accident in late December that damaged Friendly Street's heating fuel tank. The cleanup and repairs have been a slow process, in order to prevent any contamination to the surrounding area. The excavation has been completed, and the area was filled with clean soil. There will be additional landscaping added soon.
We look forward to seeing it when the work is complete.
Sunday Service During Pandemic
Sunday Service During COVID-19 Info
We are grateful for the precautions our church community has taken so far with social distancing and wearing masks at church. We are all in this together.
Sunday Service Info:
-We will have one service beginning at our usual 10:45 AM.
-Mask-wearing is required statewide for ages 5 and over, unless there is a medical condition or disability allowing for an exemption. We will provide a few extra masks, as well as Hand Sanitizer.
-Staff members and worship team members will wear masks when they are not actively speaking or leading worship.
-Bottled beverages will be provided.
-The sanctuary and main restrooms will be open. Please enter the sanctuary doors.
-A tithing basket will be available instead of passing tithing bags.
-Individually-wrapped self-serve communion cups with wafers will take the place of open communion dishes.
-Childcare and programming is unavailable during this phase. Preschool and grade school children will each have a special tote with a Bible activity book, colored pencils, a snack and drink ready for them each week on the back pew.
-If you need to stay home, please do so. We will be recording each complete service and posting it online for you to view after the service each Sunday.
Thank you!